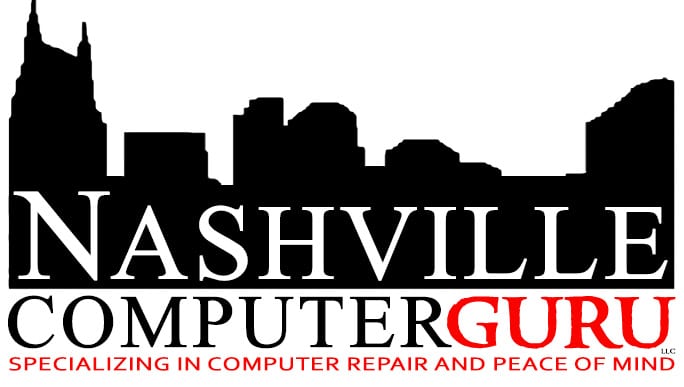 Onsite Computer Repair Service
Nashville Computer Guru (est. 2007) offers insured and certified on-site / mobile computer repair service to more than 700 clients in the Nashville, Brentwood, Franklin, Hendersonville, TN area. Same day service is usually available 6 days a week, including some holidays, flexible scheduling by appointment only. We have no storefront as we do mobile service to and from you. Saving you hassle & time.
As Seen in the Media like News Channel 5, WZTV Fox 17, Mix 92.9, 96.3 Jack FM.
Call or text us at 615-332-2844
(I can respond quicker to text and email over calls as I avoid talking on the phone when working at a client out of respect)
---
FYI: We do not have a store front.
We do onsite computer repair service and therefore have a small inventory of stocked parts. We offer free computer pick up and drop offs. All work is a one hour minimum. 
We don't work on Printer hardware, we recommend Printer Repair Group at 615-656-4220 or MIDCOM at 615-970-7900
Hours of Service
Normal hours are:
Mon to Fri – 9:00am to 5:30pm
Saturday – 10am to 3:00pm
Sunday – Closed
Mobile & Text: 615-332-2844
We are closed on major holidays but emergency services or service outside of standard hours are available for $20 extra hourly.
Got Computer Problems? Need Consulting Help?
Mobile House / Business Computer Repair
The following areas are in our normal service area.
Antioch, Ashland City, Bellevue, Brentwood, Fairview, Franklin, Goodlettsville, Greenhills, Hendersonville, Hertmitage, Kingston Springs, La Vergne, Madison, Mount Juliet, Nashville, Nolensville, Old Hickory, Pegram, Smyrna, Springfield, Whites Creek.
We serve within 50 miles of downtown Nashville with onsite computer repair and service with no trip fee.
This includes the following zip codes: 37204, 37212, 37220, 37203, 37240, 37210, 37202, 37215, 37229, 37243, 37245, 37247, 37248, 37249, 37238, 37235, 37244, 37211, 37222, 37224, 37227, 37230, 37232, 37234, 37236, 37237, 37241, 37246, 37250, 37201, 37242, 37219, 37213, 37208, 37024, 37205, 37206, 37228, 37217, 37011, 37027, 37214, 37209, 37216, 37207, 37013, 37218, 37076, 37221, 37116, 37115, 37069, 37089, 37189, 37138, 37135, 37086, 37065, 37068, 37067, 37143, 37070, 37077, 37122, 37072, 37080, 37167, 37014, 37064, 37082, 37075, 37121, 37152, 37071, 37015, 37129, 37062, 37179, 37073, 37046, 37187
We have affordable prices and payment options, but we can not and will not be able to compete with the part time, fly-by-night "computer techs" on craigslist, or your friends brother, your sisters best friends cousin who went to school for computers, etc. We have often been called out to a job by someone who had 4-5 techs before us who each had awesome prices like $29 flat fee or $15 an hour computer repair. The techs often worked on computers years ago and are doing it for side money now not knowing the latest threats, some have replaced the wrong parts or quite literally made things worst. You get what you pay for is more then just a phrase.
We have bills,  gas fill ups every few days, car repairs, normal life to pay for and we are always educating ourselves. We can't be the cheapest but we are far from the most expensive. Wouldn't you rather have it done then waiting weeks for your buddy to get around to it?
Top Tech Calls 
I have compiled answers to the most common calls I get. If it ends up helping you, please consider a donation to help me. 
Paypal: https://www.paypal.me/computerguru
Cash App: @southerntabitha
Venmo: Tabitha-Hawk-1
Keep me in mind the next time you need computer repair.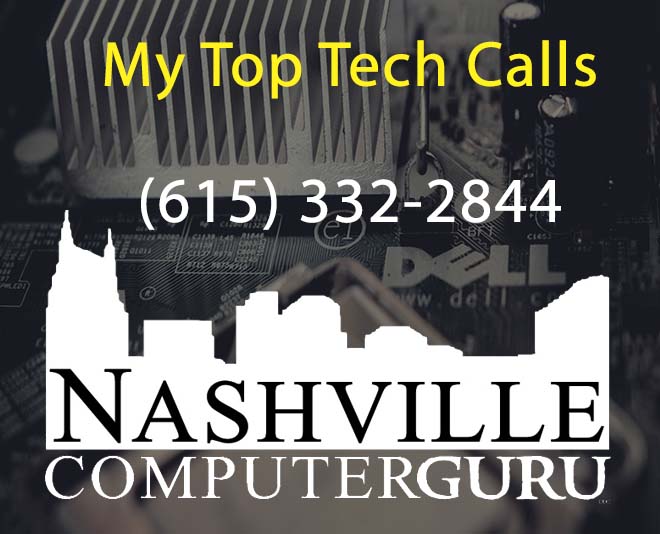 Professional Service
Remember that new computer smell? Well, not the smell, exactly, but that moment when you started your computer for the first time? Everything worked. The drive purred like a kitten, and it did everything you asked it to do–FAST. Now, it takes longer and longer to get anything done on it. You are afraid the hard drive may be going out. You are afraid there may be a virus or some kind of bug gumming up the works and exposing your personal information to some really bad people. You are afraid that it is time to just get a new computer, but there is that small issue of expense.
You have options. You can call your cousin that "knows a little bit about computers".  It's cheap and easy. No muss, no fuss. But…does the phrase "shade-tree mechanic" ring a bell? What if they make the situation worse?
If you don't have a tech-savvy cousin ready to leap into action, or you aren't sure this is a problem they can handle, you could always box everything up and take it to a store. Chances are, they will have it ready for you in a week or two, after which you can go get it and set everything back up when you get home. And they do have a good reputation, so no one went through your files or pilfered through any of your personal information, of course. And you can get by without your computer for the next week or two, I'm sure.
Of course, you could call customer support. Then the extremely helpful person after being transferred five times on the other end of the phone will walk you right through the process needed to discover what is wrong and fix it. All you have to do is call during their hours of operation when you have some time to kill. They are certainly competent and easy to understand, and will get you fixed right up in an hour or two…maybe. As long as it's not a hardware issue. No problem though, you are comfortable changing out your hard drive and transferring all of your most important information over to the new drive, right?
How do you get your computer repaired at the best price without it taking forever?
You need the Nashville Computer Guru!
A+ Certified and Microsoft Office Specialist Technician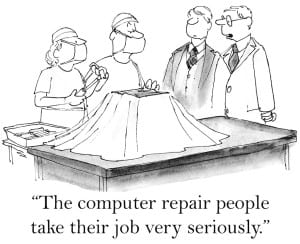 We have been enlightening computer users in Nashville and the surrounding area since 2007. We are the best solution to your personal computing conundrums. Certified technicians who are fluent in both Mac and Microsoft. Always current on the most recent virus and security threats your computer may be facing. We speak geek, and we also translate it so you are comfortable with everything before, during, and after our repair. Our technicians are CompTIA A+ certified, which means we have demonstrated competence in computer repair, networking, troubleshooting, and security. And with background checks on your technician available on demand, you can feel secure that the person you have invited into your home has a solid history of honesty and reliability. We make it easy for you to get your computer back up and running at its best, with service that is convenient for your schedule, at a price that won't leave you begging for alms.
Call / Text us now at 615-332-2844
We never stop learning, technology is always evolving and we do our best to stay in the know. What is A+ Certification? The CompTIA A+ certification is the industry standard for computer support technicians. The international, vendor-neutral certification proves competence in areas such as installation, preventative maintenance, networking, security and troubleshooting. CompTIA A+ certified technicians also have excellent customer service and communication skills to work with clients.
You can rest assure that your technician has no criminal background. We will NEVER lie to you nor try to sell you something that you really don't need. In fact we have talked people out of expensive options that just weren't right for them.
We're Tech'n Care Of Business!
Contact us to schedule onsite service or a quote. 
The Low Down on Rates & Payments
Payment Terms
By default I expect payment after services are rendered but I also understand for businesses their CPA's require invoices. I will accept Net 15 or Net 30 for businesses. You will fill out the "Payment Terms Agreement" if you would like to be on terms. I can also accept payment onsite and send you a paid invoice for your records.
Residential clients must pay after services are rendered.
__________________________________________
Payment Methods
I accept credit cards (Visa, MasterCard, American Express and Discover) as well as Checks, Cash, Cash App, Venmo and Paypal
__________________________________________

Basic Rates Rundown
(1 hour minimum for all services)
$125 an hour with a one-hour minimum for onsite service
$80 an hour for remote service with a half-hour minimum
Some services such as Virus Removal and LCD screen replacement are $125 for labor plus cost of LCD Screen
Hard Drive Replacement and Data Recovery are different depending on your specific issue. Typically the range is $800 to $2,800 but the data recovery center will determine your issue and no-obligation cost when they get the drive.
Trip Fees – $1 a mile after 50 miles total miles round trip. 
Warranty
Part & Labor Warranty is 30 days excluding Adware/Virus / Malware infections which is warrantied for 14 days. If file sharing programs such as FrostWire, torrents, or risky behavior are found to be the cause of reinfection it would be considered a new infection and subject to be billed.
Limited Hardware Warranty will be six months for NCG provided PC hardware only, not labor, after six months or if the customer provides hardware then falls to manufacture warranty to replace or repair unit at their discretion via the manufacture RMA process which can take a month or two. Otherwise, repairs can be done at regular prices with new hardware in a timelier manner.
I've had multiple companies come out and your the first one to do it in half the time, very competent and fast, you don't learn on my watch, frank about what you know and don't know, I will use and recommend you to others.
I LOVE Nashville Computer Guru! Tabitha has helped me with things ranging from downloading software so my printer would connect to finding music files I thought I'd deleted. I give her services to my friends for Christmas and they rave about how wonderful she is, and how patient she is in showing them how to perform basic operations like uploading photos from the camera, using Facebook and changing e-mail settings. I'd recommend her to anyone..
Tabitha has proven herself to me to be an expert in her field. Her sheer depth of computer knowledge coupled with her prompt, courteous, honest, professional, and very affordable service is what keeps me as a loyal client. I have contracted her to resolve both, my personal and professional, computer issues and I have been thoroughly satisfied and impressed with her every time. I have recommended her services to several friends and colleagues and do so confidently.
We've called Tabitha in to solve several computer problems over the past couple of years, each time with excellent results. Recently, she solved a complex wireless internet problem that required re-programing a wireless router. On another occasion, she replaced a failed hard drive in our desk top computer and she saved all of the data on the bad drive. Her rates are fair and she gets the job done.
Nashville Computer Guru is awesome! They are extremely helpful and work quickly.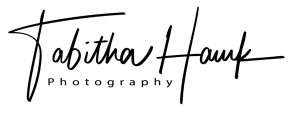 Visit the creative side of the Nashville Computer Guru with landscape and nature photography prints for your home or business at www.tabithahawk.com
Save 10% off any photography print order with the coupon code of "TABI2018"