Tech Recommendations 

(updated 12-18-19)
I have to be honest that working all day long fixing technology leaves little time, energy and will to explore the latest offerings in the world of software and hardware. Having been working on computers since the mid-90's, a lot has changed. With new models, updates and upgrades coming out constantly, it is very hard to stay on top of everything with a power button, let alone know how it works and to fix it.
Another challenge to making recommendations is I've had to work on every brand computer, printer, software, even the ones I'm recommending I've had to replace so there is no PERFECT option that will be immune to problems or failure. A perfect computer does not exist. I've dedicated a lot of time to research and put together this list of recommendations based off of Consumer Reports, PC Magazine, Tech Radar reviews, what has worked well in my experience and what I hear clients rave about so these are the recommendations I have as of December 2019.
You get what you pay for, cheaper computers break the most and often cost more in the long term. If you get a $300 computer, you will probably need $300 or more to upgrade it to make it run like a $600 computer. One way or another you pay for a good computer, either up front or later to upgrade. 
Computer Recommendations 
Desktop computers are easier to service and tend to have more power than a laptop or an All-in-One. Business grade run better, last longer and are easier to service than consumer (home) grade electronics so I recommend business class for everyone. Better to have a faster machine than you need than buy on price and have a slow machine. 
Avoid a slow computer out of the box
Clients with most AMD processors (AMD FX CPU, AMD Athlon X4 are ok), Intel Atom, Celeron, m core processors especially struggle with speed, many times just web browsing is a waiting chore, Core m-style chips include a "Y" in their model number, like this: i5-7Y54. Chips that traditionally would have been in the Core i line will continue to end their name with U, like this: i5-7200U.  So the U is the better option then the Y.
What I would Avoid
I personally avoid Acer, HP and Toshiba computers as they are the most common brands I get repair calls for and the most likely brands people say are slow. I've started getting a lot of Lenovo Yoga repairs too. Even though Lenovo is generally rated well I have gotten much more calls for them in 2019 which has lowered my enthusiasm to recommend them.  I also am not a fan of Chromebooks as they are not a typical computer, they are pretty much just Google products so Google email, docs. etc. They don't work with a lot of printers as well. If you use Google documents and Gmail and you don't need Microsoft office, other programs then a Chromebook could be a good option for you. 
I recommend the following configuration, an Intel i5 or i7 processor, 12GB of RAM or higher, preferably a Solid State Drive for ultimate performance. I would recommend no less than 512GB for the hard drive. 1TB recommended. The difference between a solid state drive and a regular drive can often be minutes faster. A Solid State Drive is what Apple calls Flash storage for the main OS/Apps and then use a second standard drive for storage.
Easiest advice is you get what you pay for. Almost always the truth a $1,000 computer will be better than a $500 computer. I would recommend not paying less than $500 for a new computer otherwise it be slow and you pay more to upgrade it later. 
Best places to buy computers
Dell's website directly
Amazon has amazing deals on "renewed" computers aka refurbished, used computers. 90 day warranty but often half the prices of what a new one would have cost. 
Locally Best Buy would be the best place to go but any box store like Office Max, Staples, etc have computers. Black Friday to the end of the year is the best time to buy. 
Desktops for Homes
Dell OptiPlex 5060 Small Form Factor 
Dell XPS 8930 Desktop
Lenovo IdeaCentre 720 Desktop
Macbook Pro 
Desktops for Business
Dell OptiPlex 7060 Tower
Dell OptiPlex Workstations website
Dell Precision Workstations
Mac Pro
Best All-In-One Machine
(Not a fan of All-in-One Machines because most parts can't be fixed other than memory and hard drive as it is like a large laptop and usually slow. However, if you want to get one then this is the best one.)
Laptops for Business Use 
In a general sense Dell Latitude series with an Intel i5 or i7 processor, 12GB of RAM or higher, preferably a Solid State Drive for ultimate performance.
Dell Latitude Series – no doubt I feel the Dell Latitude is the best series for business
Dell Precision 5000 Series
Lenovo ThinkPad T450s or explore Lenovo ThinkPad T Series options
Dell XPS 13 Touch
Mac Book Pro
Microsoft Surface
Laptops For Home Use
Dell, Asus or Lenovo computer with an Intel i5 or i7 processor, 8GB of RAM or higher, preferably a Solid State Drive for ultimate performance.
Dell XPS 13 Series
Mac Book Pro
Microsoft Surface
Vaio Z computer
Lenovo ThinkPad X260
Asus Zenbook UX305CA
ASUS ZenBook Flip UX360CA-DBM2T 13.3
For Gamers Use

Alienware Desktops 
Origin Chronos VR
Computers for Video / Graphic Design
or people who just need a powerful computer to get the job done

Mac Pro
iMac Pro
Surface Studio – 1TB / Intel Core i7 / 16GB of RAM (or higher)
Custom Built Computer are built exactly for your needs. Plan on $1,500-2,000 for a good custom built computer but you should get 5 years or more easily out of it. 
Tablet
Microsoft Surface Pro – basically a small laptop that has one USB drive, runs Windows 10 so better compatible for business use 
iPad – good for those with an iPhone so easy to learn but no USB port, good for home use. 
---
Wireless Routers and Adapters Recommendations 
Are you one of those people constantly asking: Why is my Internet and/or WiFi so slow?!? You may be surprised to hear this, but it is often not the Internet provider's fault. It all comes down to the power of the router and computer you are using. Replacing the router is a great option for most people, sometimes the computer itself is slow and no matter how fast the internet it is you can't tell if the computer can't process it fast enough.
WiFi has a lot of pros and cons so it is good to understand what you really need. Often times a new router will mean old printers and laptops won't work but a new computer or tablet won't connect or struggle to connect to an old router. Many times, a new computer means a new router which can mean a new printer too. Frustrating as it may be, I often get calls after a new router setup saying the new computer works great but the old stuff now is the problem and it gets old to be blamed for these situations.
A dual band router is often the safest option. A 2.4 and 5Ghz router will be your safest option. Comcast's newest cable modems have built in AC which is why old equipment struggles.
I see people who get wireless extenders and complain about wifi trouble while having an old router, remember extenders only extend what it gets. So make sure you have a great router first then if needed get an extender.
Distance
2.4 GHz was the frequency used for WiFi until 2013 when the 5 GHz band was opened up for wireless devices.
The thing is the higher the frequency, the less distance it can reliably travel but the faster it is. 2.4GHz goes through walls better then 5Ghz
So a dongle using the old 2.4 GHz will transmit further than the new 5 GHz dongles but be slower.
So why use the new 5 GHz band?
Simply put there are too many devices talking in the 2.4 GHz frequency. The 2.4 GHz band used by Wireless-N & Wireless-G is cluttered with signal interference from cordless phones, Bluetooth headsets/keyboards, baby monitors, neighboring wireless networks, remote door openers, and even microwaves, to name a few disruptive devices. Just about anything wireless in your home builds the level of interference which will cause problems with your connectivity.
It has become overcrowded which slows everyone down trying to get a signal through.
The new 5 GHz while not able to send a signal as far, is not crowded and relatively used less for now.
If you live in a crowded city than using a 5 GHz dongle is likely your best option.
If you live outside a city with few if any neighbors a 2.4 GHz dongle is likely your best option.

802.11 protocols
802.11 is what sets the standards for manufacturers and device makers to create their products that all talk together.
Here are the main ones to know.


Most devices today are 802.11n also called Wireless-N. Wireless-N can work in both the 2.4 GHz and 5 GHz frequency ranges.
Dongles that work in both 2.4 GHz and 5 GHz ranges are called Dual Band.
The new 802.11ac is a new protocol introduced in 2013 and it can transfer data much faster than wireless N but often doesn't work with older equipment.
So why not simply buy a wireless 802.11ac adapter?
802.11ac only works in the 5 GHz range which doesn't travel as far as 2.4 GHz but is much faster then 2.4.
If distance is not an issue than a 802.11ac dongle is the best option.
If distance is an issue stay with a dual band 2.4 GHz Wireless-N dongle.
Antennas
Internal antennas are good at staying low profile but will not transmit as far as external antennas.
A antennas size is valued by its dBi number value, for example a 9 dBi antenna is bigger than a 5 dBi antenna.
---
Routers
Best of the Best
eero Home WiFi System (1 eero + 2 eero Beacon) Coverage: 2 to 4 Bedroom Home
Google WiFi system, 3-Pack covers 4,500 sq ft
(Triple Band – (2) 5GHZ AC and (1) 2.4GHZ)
TP Link Archer AC3200 Wireless Tri-Band Gigabit Router
NETGEAR Nighthawk X6 AC3200 Tri-Band Gigabit WiFi Router (R8000)
Linksys AC5400 Tri Band Wireless Router (Max Stream EA9500)
ASUS RT-AC5300 Wireless AC5300 Tri-Band Gigabit Router, AiProtection with Trend Micro for Complete Network Security
ASUS RT-AC88U Wireless-AC3100 Dual Band Gigabit Router, AiProtection with Trend Micro for Complete Network Security
Netgear Nighthawk X4S VDSL/ADSL Modem Router D7800 
Good for most places
TP-LINK Archer C7 AC1750 Wireless Dual Band Gigabit Router
TP-Link AC1900 Wireless Long Range WiFi Gigabit Router (Archer C9)
Amped Wireless Titan – High Power AC2600-RD Wi-Fi Router (RTA2600-R2)
Wireless Extender:
Amped Wireless TITAN-EX, High Power AC1900 Wi-Fi Range Extender (RE1900A)  Up to 14,000 SQ ft
---
Wifi Adapters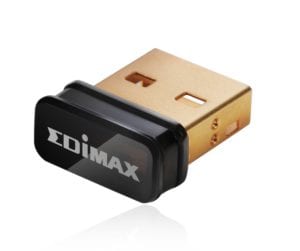 Small Profile aka Nano-sized USB adapters are great for laptops but due to the size they might not pick up the signal as well as a larger adapter or a dongle version. Again WiFi is full of pros and cons.
Edimax EW-7811Un 150Mbps 11n Wi-Fi USB Adapter, Nano Size Frequency Band 2.4GHz (currently a best seller on Amazon)
TP-LINK Archer T1U AC450 Windows 10 WiFi Adapter 5Ghz Only – compatible with 802.11ac wireless standards and backward compatible with 802.11a/n standards
Dongles
Dongles that come with an external antenna often use a SMA connector that will allow for easy-screw-on attachments of different sized antennas. These are good solutions for connectivity and distances issues as the low profile adapters don't have the antennas to pick up from a distance like one that is external. The other hand you lose the portability of a smaller profile adapter.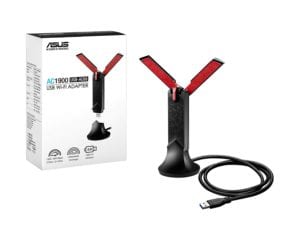 ASUS USB-AC68 Dual-Band AC1900 USB 3.0 Wi-Fi Adapter with Included Cradle