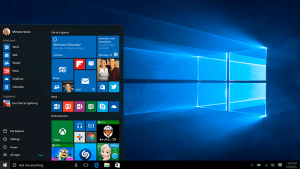 So Windows 10 is here and people are asking left and right wether or not to upgrade to the shiny new Operating System. We have been working with Windows 10 long enough now to give our 2 cents on it. Windows 10 is a huge upgrade from windows 8 and smooths out many of the issues we were used to seeing in Windows 8, however there are some issues Windows 10 owns all by itself. Some of these issues are minor, and others can tempt you to through your Windows 10 out the window! For the next couple of days we are going to push out some information on some new features of Windows 10 and how they may benefit you. We will also be looking at some of the negative "side effects" of the new and improved Windows OS.
​Windows 10 is full of new features and improvements. Take a look at the highlights!
The Start menu is back—and it's more personal, more organized, and more fun than before.
Select the Start
button on the taskbar. You'll find your most used apps on the left, the All apps list, and shortcuts to other locations on your PC, like File Explorer and Settings.
Get apps, music, and more
The Store is a one-stop shop for music, videos, games, and apps.
Try out an app before you buy it, or pick a free one. Your Windows 10 apps will work on all your Windows 10 devices.
Cortana, your personal assistant, is right on your desktop. Ask her to set up a meeting or send an email to a friend. She can even find your files for you and tell you jokes. Select the search box and type what you want Cortana to do, or just select the microphone to talk with her instead.
Note
Cortana is only available in certain countries/regions, and some Cortana features might not be available everywhere. If Cortana isn't available or is turned off, you can still use search.
Rule the web with Microsoft Edge
Microsoft Edge is the first browser that lets you take notes, write, doodle, and highlight directly on webpages. Use the reading list 
to save your favorite articles for later, then read them in reading view 
. Plus, Cortana is built in to Microsoft Edge to help you do things faster and easier.
Where you can type, you can write
Microsoft Edge isn't the only app you can write in. Use your tablet pen, finger, or your mouse to write everywhere you could type before. Or just doodle in OneNote. We won't tell.
Sign in and greet the day with Windows Hello
If it's available on your device, Windows Hello changes how you sign in—it uses your face or fingerprint instead of a password. Go to Settings > Accounts > Sign-in options to set it up.
All your photos in one place
No more endless searching. The Photos app collects all your photos and videos in one place. From your phone, and your PC, and OneDrive. Then, it organizes your memories into albums for you to enjoy and share.